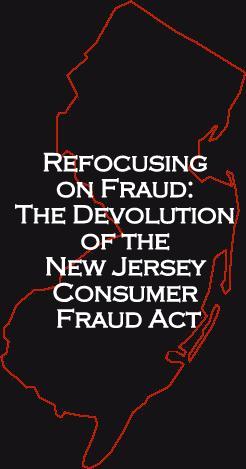 The CFA was enacted in 1960 to protect New Jersey citizens against deceptive business practices. As one of the first consumer protection laws in the country, it was heralded as a great success and served as the model for similar legislation in many other states.
Over the years, the law has been amended by the legislature and expanded by the courts into an enormous and unwieldy piece of legislation. It is prone to abuse, incentivizes unnecessary litigation, and makes even technical violations extraordinarily costly to resolve. It is now a significant national outlier in the burdens it places on businesses and the court system.
The New Jersey Civil Justice Institute (NJCJI) and the American Tort Reform Association (ATRA) are co-hosting a panel discussion of the New Jersey Consumer Fraud Act (CFA) featuring Federal Trade Commission (FTC) Commissioner Joshua Wright, Emory University School of Law Professor Joanna Shepherd-Bailey, and attorneys Gavin Rooney of Lowenstein and William J. Pinilis of Pinilis Halpern, who have experience pursuing and defending against CFA claims in New Jersey. Panelists will provide their thoughts on the evolution of the CFA, its current effectiveness, and what reforms they would like to see in this area of law.
The cost of the event, which is being held on October 2, 2014 from 4-6PM at the Hanover Marriott in Whippany, NJ, is being covered by NJCJI and ATRA, but pre-registration is required to attend. Register now by visiting http://goo.gl/3RBxuZ or by calling 609-392-6557.
NJCJI anticipates that CLE credit will be available to lawyers attending the event.