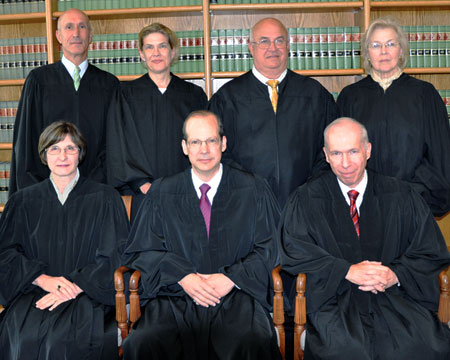 The New Jersey Supreme Court will convene its 2015-16 term on September 16. As the state's highest judicial body, the decisions of the New Jersey Supreme Court have a direct and significant impact on individuals residing in the state and organizations located or doing business here.
The Court
The New Jersey Supreme Court is the highest state court in New Jersey. This means that its decisions are binding on all of the lower state courts and on federal courts applying state law.
Only very rarely are the court's decisions overturned by the U.S. Supreme Court, the legislature, or the court itself at a later date. As such, it is crucial that New Jersey citizens, businesses, and organizations pay close attention to the judiciary.
For the most part, the New Jersey Supreme Court gets to decide which cases it will hear. Litigants unsatisfied with the decision of a lower court may petition the court to hear their case. If the court agrees to hear a case, it is typically because there is uncertainty in the case law or because the issue is too important for the court not to hear it.
The Justices
The court is composed of a chief justice and six associate justices, all appointed by the Governor and confirmed by the Senate. Justices serve a seven year term, and may then be re-appointed to a term that ends only when they step down, are impeached, or reach the judiciary's mandatory age (70). The executive and legislative branches have butted heads over the past few years over the composition of the judiciary, but it appears that the compromise reached last year has settled the issue for the time being.
On May 11, 2014, the New Jersey legal community awoke to the news that a deal had been struck between Gov. Chris Christie and Sen. President Stephen Sweeney – Chief Justice Stuart Rabner would be nominated for tenure and then-Judge, now Justice, Lee Solomon would be nominated to fill one of the high court's two vacant seats left open since Christie decided not to reappoint Justice John Wallace in 2010 and Justice Helen Hoens in 2013.
With the confirmation of Rabner and Solomon, the composition of the court remains 3 Democrats, 3 Republicans, and 1 independent.
Click the justices' names below to read their official biographies on the New Jersey Court System's website:
Additional Resources
Oral Argument Schedule for the 2015-16 Term
General Assignment Order for Court Year 2015-16
Website for viewing the live webcast of oral arguments
The New Jersey Supreme Court's Appeals Tracking Website
The New Jersey Digital Legal Library
NJCJI's Recap of the 2015 State of the Judiciary Address