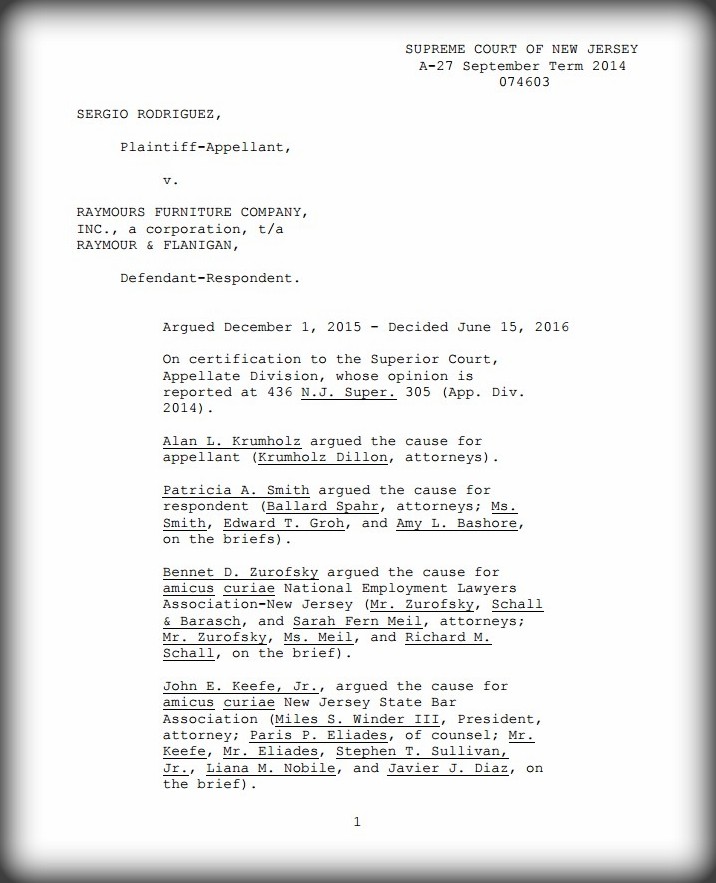 The New Jersey Supreme Court issued another disappointing decision this week, over-turning an employment contract in the name of creating better public policy. At issue was an employment contract that set its own time limit for bringing lawsuits against the employer instead of relying on the default rules in the statutes as a limit. The high court decided to ignore the contract and allow the employee to bring a lawsuit well after the time limit he had agreed to when he was hired.
The unanimous decision, authored by Justice LaVecchia, is unprecedented. Contract provisions limiting the time for parties to bring suit have previously been upheld in New Jersey (Mirra v. Holland America Line, 331 N.J. Super. 86), and the very same waiver provision at issue in this case was recently upheld in New York (Hunt v. Raymour & Flanigan, 963 N.Y.S.2d 722).
"It's disappointing that the New Jersey Supreme Court has once again substituted its own policy judgment for the contractual language agreed to by private parties," said NJCJI president Marcus Rayner. "Employers and employees in this state should be concerned by the court's increasingly negative attitude toward employment contracts and arbitration agreements in New Jersey because if you can't rely on contracts, what can you rely on?"
Click here to read the court's opinion in Sergio Rodriguez v. Raymours Furniture.
News Coverage
NJ Justices Force Employers To Play Long Game In Bias Rows
Jeannie O'Sullivan | Law360
A New Jersey Supreme Court decision Wednesday sinking employer time limits on worker discrimination claims eradicates the certainty that such contractual restrictions could provide businesses over possible suits, forcing companies to think long when it comes to document retention and other litigation precautions, attorneys say.
Justices Void 6-Month Filing Deadline for Discrimination Claims
Michael Booth | New Jersey Law Journal
In a landmark ruling, the New Jersey Supreme Court ruled on June 15 that the two-year statute of limitations for filing a lawsuit alleging violations of the state Law Against Discrimination cannot be shortened by a clause in an employment agreement or contract.
NJ Justices Nix Employer Time Limits On Worker Bias Suits
Jeannie O'Sullivan | Law360
The New Jersey Supreme Court on Wednesday ruled that employers can't impose restrictions on the time frame an aggrieved worker has to file a discrimination claim, handing a victory to a former Raymours Furniture Co. Inc. employee who alleged he was fired because of his disability.