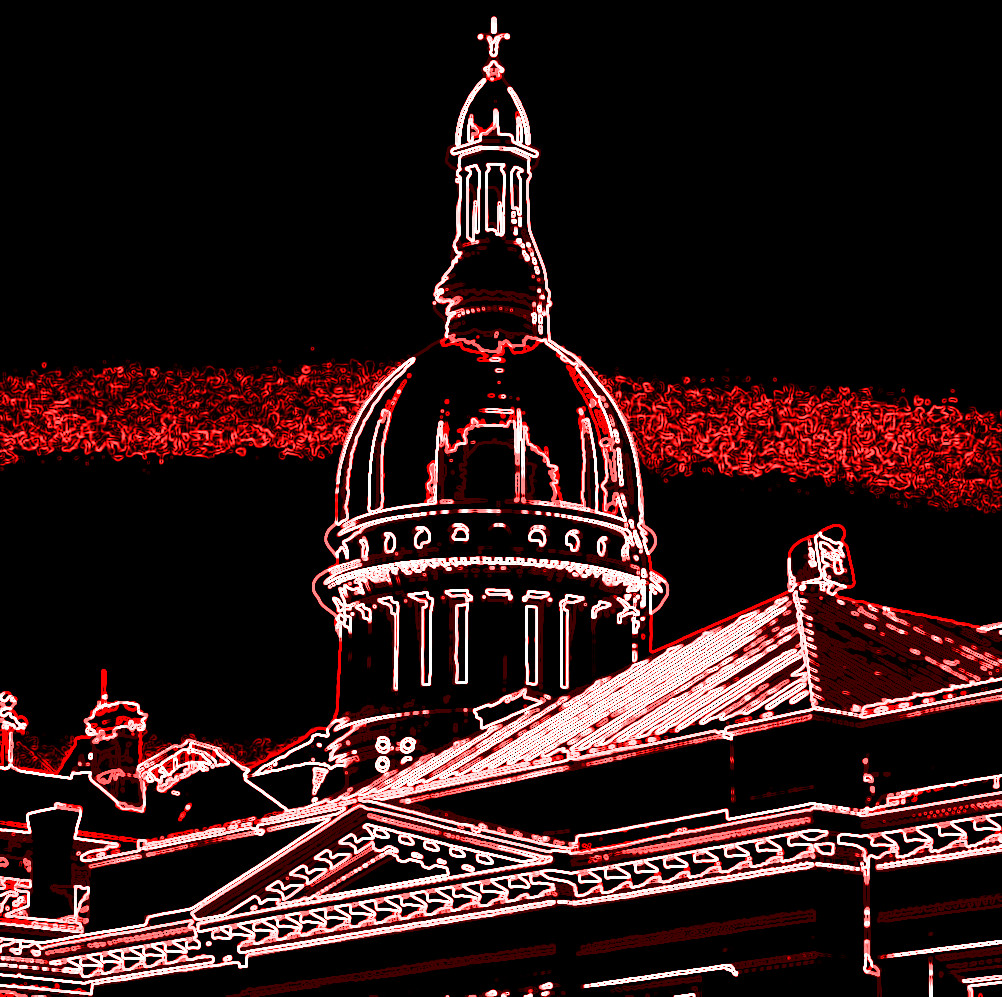 April 5 was a busy day under the State House dome. While the halls were swarmed with people up in arms over vaccines and nuclear power, two other bills attracted the attention of NJCJI and our allies in the business community.
The Senate Judiciary Committee swiftly passed a bill providing additional damages in wrongful death cases without hearing any testimony, and the Senate Commerce Committee voted to advance a bill targeting the bad faith denial of insurance claims. It would be a big deal if either one of these bills were passed into law, but the combination of the two would send our state's insurance market into a tailspin. NJCJI is opposing them both.
Additional Damages in Wrongful Death Cases    
S1766, which is being sponsored by Sens. Scutari and Gill, would expand New Jersey's Wrongful Death Act to allow unlimited recovery for emotional damages. Scutari, who chairs the Judiciary Committee, refused to hear testimony before having the bill voted out of committee.
NJCJI is opposing this legislation because the existing Wrongful Death Act works well and already provides for fair and predictable compensation. Changing the scope of wrongful death remedies to include purely emotional damages, like mental anguish and pain and suffering, would introduce considerable uncertainty, making cases more difficult to settle, and imposing significant new risk and increased insurance premiums on all New Jersey residents.
The Wrongful Death Act already provides compensation both for straightforward pecuniary losses like future income, as well as less tangible aspects of loss like lost assistance, care, training, advice, counsel and companionship. The existing legal guidelines ensure clarity and certainty – the approach is well-established and the case law has been honed through the years.
By keeping the purely emotional aspects out of the calculation, the existing methodology permits the ready valuation of cases, which is essential to reaching settlements. Changing the rules to permit awards for what is essentially unquantifiable would undo that fairness and predictability. Tasking juries with putting a dollar value on "grief" without any limit or guidance would significantly undermine predictive value of all other calculations, creating wild fluctuations in awards, and that uncertainty in valuing cases would make those cases much more difficult to settle.
The change would also significantly increase the risk and burden on all New Jersey residents. People carry insurance because they recognize that a momentary lapse of judgment can sometimes result in tragic, completely unintended consequences. Everyone benefits from being able to insure against the financial consequences of such a tragic event. Exposing New Jersey residents to an open-ended and unpredictable risk of liability would mean a significant increase in premiums, and still no guarantee that they have adequate protection against a massive jury verdict.
There is no amount of money that can fully compensate for the lost life of a loved one. The best that the civil justice system can do is compensate the quantifiable losses – something the existing Wrongful Death Act already does very well. Ask for more than the system can reasonably provide, and we lose the predictability and basic fairness that we largely take for granted. The primary effect will simply be higher premiums, with a largely uninsurable risk that a momentary mistake results in life-altering financial calamity.
Bad Faith Bill is Bad for New Jersey
Although New Jersey already has mechanisms in place that discourage insurance companies from improperly denying claims, supporters of S2144 are urging the state to do more to deter claim denials.
The legislation, which is being sponsored by Sens. Scutari and Gopal, would create a private cause of action for claimants who face an "unreasonable delay or unreasonable denial of a claim for payment of benefits under an insurance policy."
Successful claimants would receive:
actual damages caused by the violation;
prejudgment interest, reasonable attorney's fees, and all reasonable litigation expenses; and
treble damages.
On April 5, the Senate Commerce committee held a spirited debate, with Senator Cardinale observing the imbalance of the bill, which would impose treble damages on mistakes by insurance carriers but no comparable penalty on erroneous, or even false, claims made by plaintiffs. The bill was nevertheless voted out of committee.
While we appreciate the sponsors' concern with encouraging fair and efficient behavior from both carriers and claimants when settling cases, expanding the availability of bad faith remedies would not improve the efficiency or fairness of claims settlements. Rather, it would make claims settlements less predictable and more expensive and distort the existing incentive structure to the particular detriment of law-abiding policy holders.
The challenge of regulating insurance is striking the appropriate balance of incentives. We want to ensure that policy holders are not subject to undue delay or unnecessary litigation, while at same time protecting carriers' ability to investigate questionable claims and hold policies to terms on which they are drafted.
That balance is critical, because shifting too far towards deterring carriers from policing the terms of insurance contracts is not a benefit to consumers. Policies are priced according to their terms, not just as drafted, but as they are likely to be enforced. If policy limits cannot be enforced in a predictable fashion, then affordable policies with set policy limits will not be available for purchase.
The existing framework is designed to strike that balance. When there is no reasonable basis to dispute the claim, individual claimants can currently bring a bad faith claim to recover damages in excess of policy limits. But when carriers have a reasonable basis to dispute a claim, in other words, when the claim is "fairly debatable," imposing fee-shifting and treble damages on mere mistakes would result in over-deterrence.
The goal is to distinguish errors made in good faith from claim denials that arise out of a general business practice to use litigation as a tool to drive down settlement values. Hence the regulatory oversight by the Department of Banking and Insurance, which brings bad faith actions against carriers when there has been a pattern of behavior to indicate bad faith settlement practices.
The individual policy holder is also not without effective remedy when he believes his insurance carrier is unfairly delaying or denying a claim. In fact, the offer of judgment rule exists for precisely such situations. The policy holder who makes a settlement offer and is ultimately vindicated by a verdict in excess of 120% of the offer is entitled, not only to damages but also to attorney fees incurred from the time the offer was made.
The one-sided super-penalties of S2144 would disrupt the existing balance of incentives. When insurance carriers can no longer effectively investigate and challenge potentially invalid claims, rates will go up, and it will ultimately be consumers who pay the price.
Double Trouble
New Jersey has come a long way since the days when our insurance rates far outstripped those in our neighboring states, and companies were hesitant to offer certain types of policies at all. Any change to our insurance laws must take into consideration the impact it will have on the broader market and on the legal system. The passage of either or both bills would send shockwaves through the insurance industry, and flood the courts with additional cases.