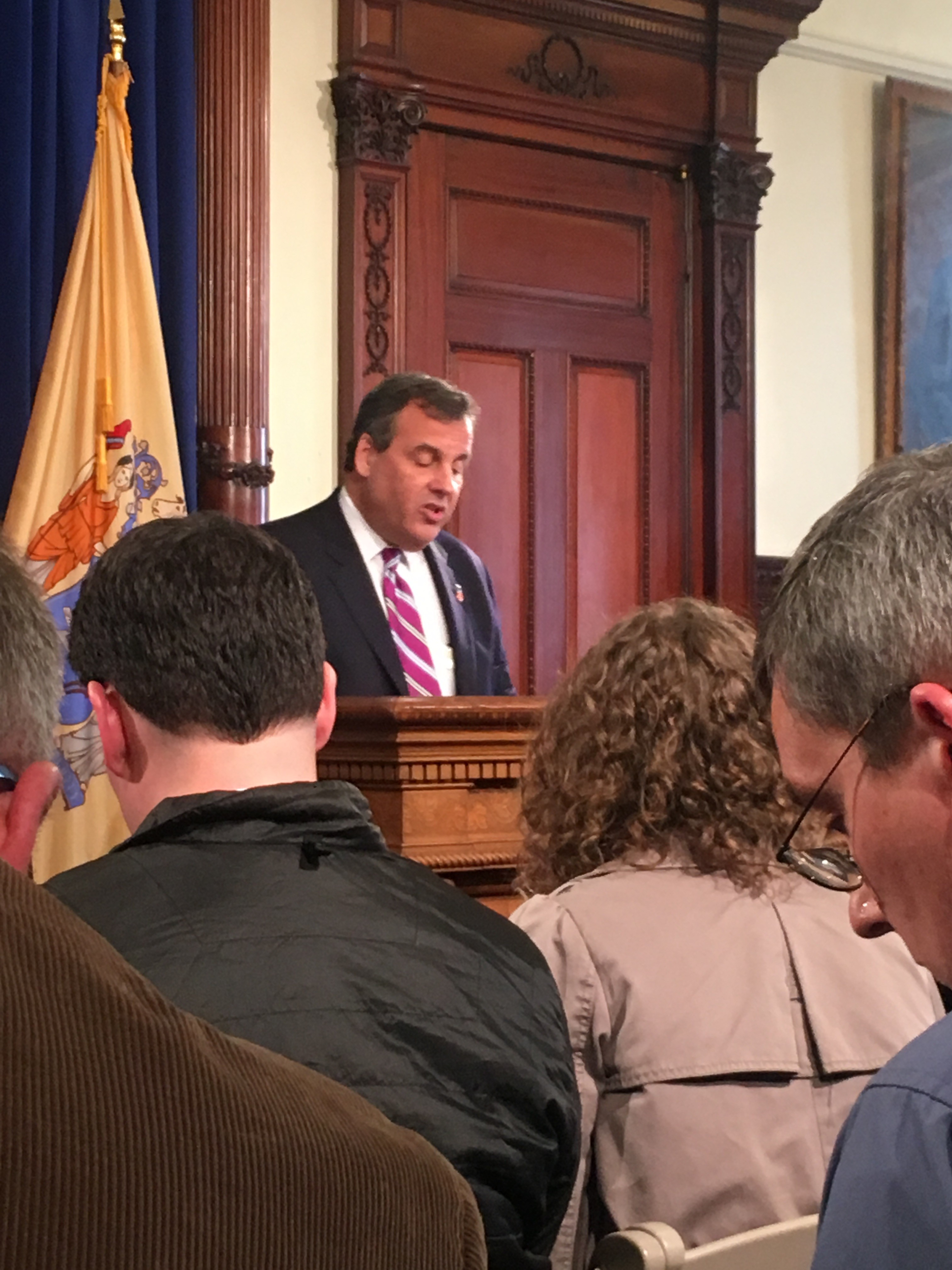 On Monday, February 29, Gov. Christie held a press conference to announce that he is nominating Superior Court Judge David Bauman of Monmouth County to the New Jersey Supreme Court. Christie had previously nominated Bauman in 2012, but the Senate failed to act on the nomination.
During the press conference, Christie said that "the spirt moved him" to make the nomination at this time, but also suggested that if Democrats want to criticize the GOP for holding up a vote on the United States Supreme Court seat left open by Justice Scalia's death, they should confirm Bauman for the New Jersey high court.
The response to the nomination has been intense given the history of Christie's relationship with the court, and the current political environment.
Christie Ready to Battle Democrats Over Supreme Court Nomination 
Matt Friedman | Politico New Jersey
Gov. Chris Christie on Thursday threatened to do things he's "never done before" if state Senate President Stephen Sweeney continues to block his state Supreme Court nominee.
Sweeney: Christie 'Absolutely' Broke Deal on N.J. Supreme Court
Brent Johnson | NJ Advance Media for NJ.com
State Senate President Stephen Sweeney said Wednesday that when Gov. Chris Christie announced this week he was re-nominating a judge to fill the last open seat the state Supreme Court, he "absolutely, 1,000 percent" broke a deal they made two years ago to leave the seat vacant.
Christie Tries Again to Fill Supreme Court Seat
Heather Haddon | Wall Street Journal
New Jersey Gov. Chris Christie nominated a candidate for the state's Supreme Court on Monday, arguing that state Democrats should set an example for U.S. senators by holding a hearing on his choice.
Christie Challenges Democrats with State Supreme Court Nomination
Dustin Racioppi | The Record
Governor Christie on Monday nominated a Republican judge for a long-vacant seat on the state Supreme Court and named a successor for the state's outgoing acting attorney general, moving to fill two high-profile vacancies that loomed as question marks over the rest of his tenure.
Earlier that same day, Christie also announced that he was appointing Robert Lougy the Acting State Attorney General. Lougy currently serves as First Assistant Attorney General and is a 10-year veteran of the Department of Law and Public Safety.
Top Lieutenant Takes Over for Hoffman as Attorney General
David Gialanella | New Jersey Law Journal
Robert Lougy, after spending much of his career in the New Jersey Attorney General's Office, has been selected to oversee it.
Christie Taps Lougy as Acting Attorney General
Politicker Staff
Governor Chris Christie this morning announced the appointment of Robert Lougy as Acting State Attorney General, succeeding John J. Hoffman effective March 14.
(Updated 3/4/16)