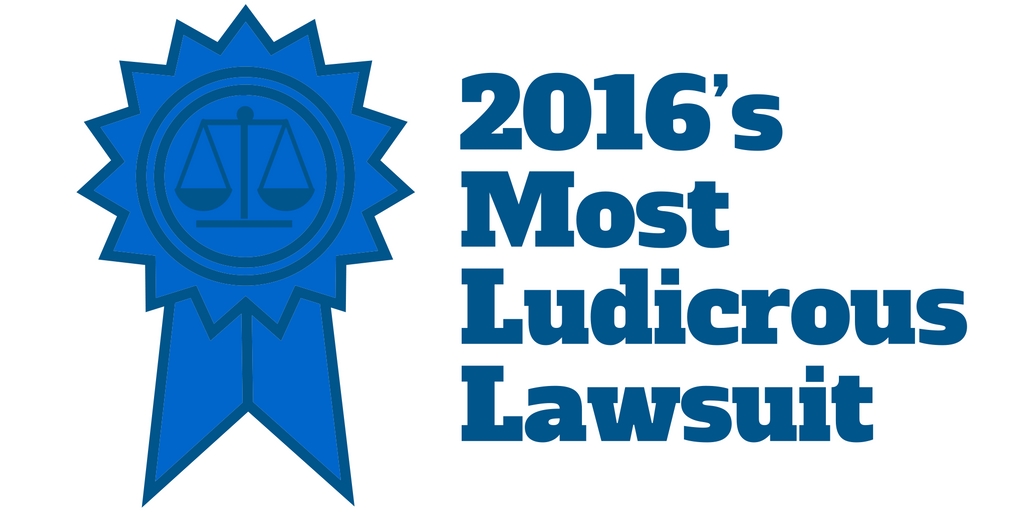 A lot of ridiculous lawsuits were filed in New Jersey this year, but only one can be crowned 2016's Most Ludicrous Lawsuit. Cast your vote now for this year's "winner."
This year's nominees are:
Amusement Park Ride Makes Kid Dizzy
Amusement park rides are supposed to make you dizzy, right? Not according to the parents of a child who lost his balance and hit his head after getting off the Bugs Bunny Camp Carousel. They are suing Six Flags Great Adventure for $75,000 for their son's alleged injuries. The real kicker is the child's dizzy spell happened four years ago, but the lawsuit was just filed this year.
Void Where Prohibited
Scores of companies were dragged into New Jersey court this year by plaintiffs suing over the phrase "void where prohibited" being included in the terms and conditions of a company's website. These companies could have to pay millions of dollars in damages despite the fact that there is no evidence that any of the consumers involved in any of these cases has been actually harmed. Because these suits are being brought as class actions, most of the money paid out will probably end up in the pockets of the attorneys bringing the suits.
Law Firm Sues Potential Client
The New Jersey law firm Jaffe & Asher LLP is upset it was not hired to represent Wells Fargo in pending litigation despite redecorating its offices, so it decided to sue the financial institution. This suit was technically not filed in New Jersey, but we're not going to hold that against it.
100 Self-Serving Suits
Apparently New Jersey attorney Harold Hoffman has never heard the old adage "He who represents himself has a fool for a client." Just a few years after a court chastised him bringing a Consumer Fraud Act suit against a company selling a penis enhancement product without actually trying the product, he was back in the news again. First for suing the popular Jewish dating website JDate for emailing him, and more recently for abusing the court system with procedural trickery. The court called him "a serial pro se class action litigant," which is a bit of an understatement considering he has filed over 100 lawsuits on his own behalf under the guise of consumer protection. Hoffman's double role in the suits he files raises some serious questions about his motives. Are the suits he files truly in the interest of New Jersey consumers? Or is he filing them simply to shake settlement dollars from deep pockets?
Gas Can Explodes When Used As Fire Starter
Walmart is being sued because a gas can it sold blew up when someone tried to start a fire with it.
Crazy Lawsuits are a Symptom of a Broken System
"I can't deny it's amusing to look back at all the crazy lawsuits that popped up in the New Jersey courts this year, but is important to remember that this is really not a laughing matter. These lawsuits exist because our legal system is fundamentally flawed," said NJCJI president Marcus Rayner.
"Many of the worst lawsuits are filed because New Jersey law incentivizes them. When the law encourages a disregard for personal responsibility, or allows uninjured parties and their attorneys to collect a windfall, people are going to take advantage of it."
"We want to highlight the results this sort of a system produces by awarding the title 'Most Ludicrous Lawsuit' to a deserving recipient. But we also want to work to improve our system so that these sorts of lawsuits become a thing of the past. Legal reform is a non-partisan, low-cost way to improve our state's legal environment, and thus, our economy."
Want to help us advance common sense legal reform in New Jersey? Fill out the "Quick Contact" box at the bottom of this page, and we will be in touch with information on how you can help fight lawsuit abuse.