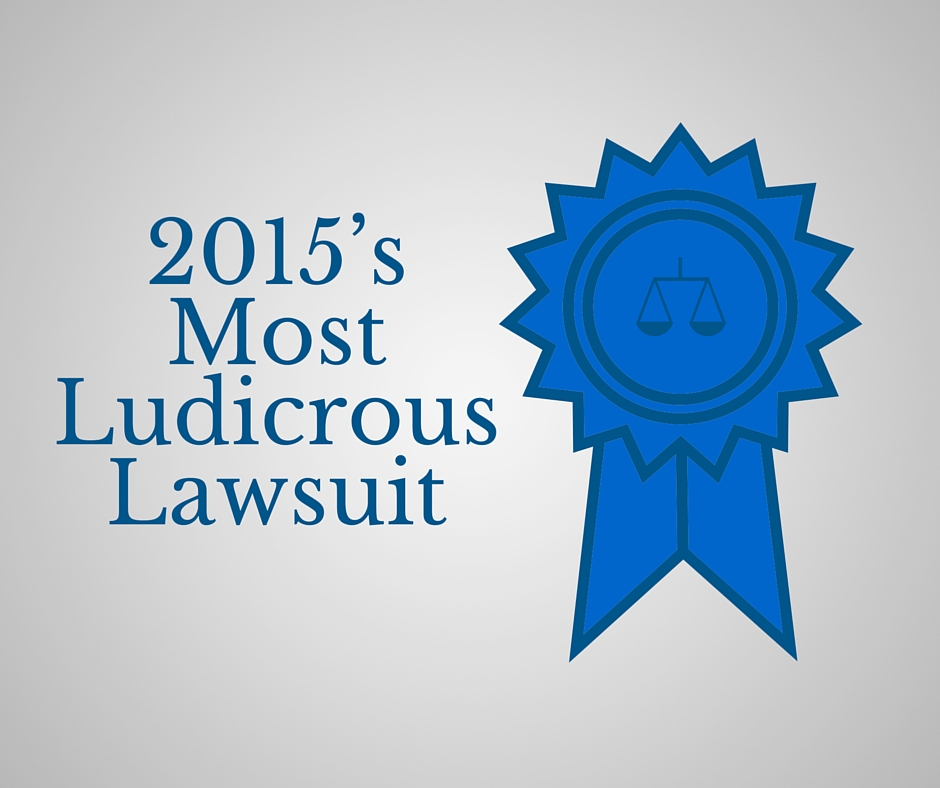 A lot of ridiculous lawsuits were filed in New Jersey this year, but only one can be crowned 2015's Most Ludicrous Lawsuit. Cast your vote now for this year's "winner."
This year's nominees are:
Too drunk to sit without police protection.
This fall a woman was given the green light to sue Belmar police for injuries sustained because she was too drunk to sit in a chair without falling out of it.
Flatulence is a disability.
Countless jokes have been made since it was reported that a New Jersey couple is taking legal action against their former employer because they allege the husband was fired for passing too much gas, but this is far from a laughing matter. This is the perfect example of what can happen when laws that are drafted with the best of intentions in mind are taken just a little too far.
Casino's cocktail waitresses are too good looking.
An accused card cheat is counter-suing Borgata, and one of his arguments is that the casino unfairly gains an upper hand by distracting players with attractive cocktail waitresses and free drinks.
The half-baked fresh-baked bread saga.
Wegmans spent the better part of 2015 defending itself against a class action lawsuit filed by plaintiffs who insisted that bread baked in the store could not be advertised as "fresh baked" if it was not 100% made from scratch at that location. The suit was dismissed because the plaintiffs did not (and probably could not) indicate what products they were suing over, who had bought the offending products, and why exactly they felt mislead. This legal shakedown is just one example of the types of lawsuits that New Jersey's Consumer Fraud Act encourages.
Holy hot fajitas.
This New Jersey lawsuit over whether Applebee's was liable for burns a customer suffered while bowing his head in prayer over a sizzling steak fajita skillet made national headlines. Thankfully, the courts ruled that it should be obvious that hot food is hot.

Crazy Lawsuits are a Symptom of a Broken System
"I can't deny it's amusing to look back at all the crazy lawsuits that popped up in the New Jersey courts this year, but is important to remember that this is really not a laughing matter. These lawsuits exist because our legal system is fundamentally flawed," said NJCJI president Marcus Rayner.
"Many of the worst lawsuits are filed because New Jersey law incentivizes them. When the law encourages a disregard for personal responsibility, or allows uninjured parties and their attorneys to collect a windfall, people are going to take advantage of it."
A recent survey conducted for the United States Chamber of Commerce's Institute for Legal Reform by Harris Poll ranked New Jersey's legal climate as 38th in the nation. That is a drop of six spots from 2012, when the survey was last conducted. If we continue to incentivize crazy lawsuits, who knows how low we will have fallen when the next survey is conducted.
Our ranking is important not because we are vain or rankings-obsessed, but because that same survey revealed 75 percent of attorneys at U.S. companies say a state's lawsuit environment is likely to impact important business decisions at their company, including where to locate or expand.
"We want to highlight the results this sort of a system produces by awarding the title 'Most Ludicrous Lawsuit' to a deserving recipient. But we also want to work to improve our system so that these sorts of lawsuits become a thing of the past. Legal reform is a non-partisan, low-cost way to improve our state's legal environment, and thus, our economy."
Want to help us advance common sense legal reform in New Jersey? Fill out the "Quick Contact" box at the bottom of this page, and we will be in touch with information on how you can help fight lawsuit abuse.
.