From the moment I heard Ralph Nader was opening a museum of tort law, I knew I had to go. I love visiting museums, and having worked on lawsuit reform issues for most of my post-law school career, this one really piqued my interest. So, I took a trip to the American Museum of Tort Law to see what it had to offer. What I found was a fledgling operation that needs to reevaluate either its name or its exhibits if it wants to take off.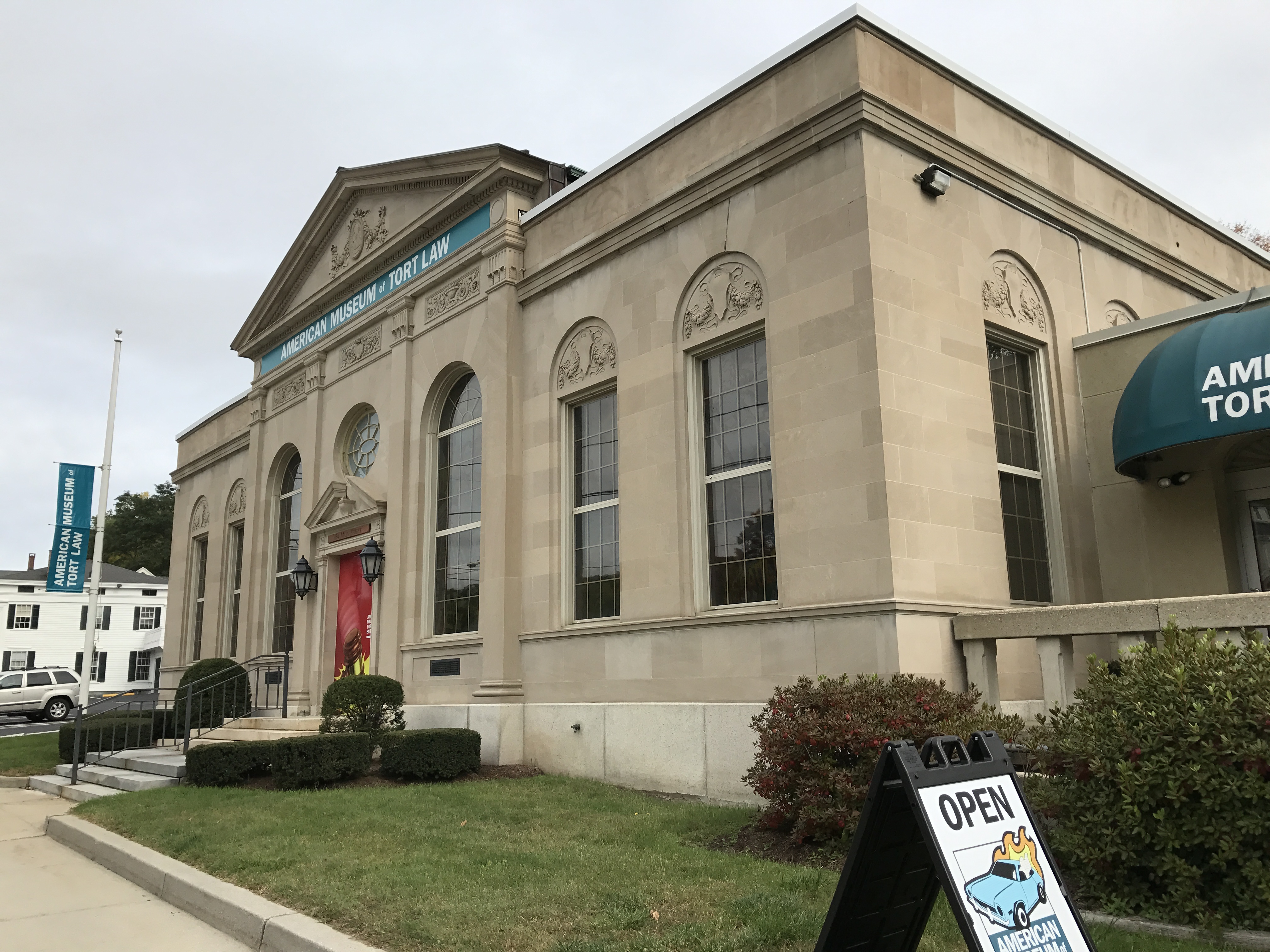 The museum is located in Nader's hometown of Winsted, Connecticut. The town itself is in sad shape (the friendly museum staff struggled to come up with a recommendation for a place to grab lunch in the area) but the drive there, during peak leaf-peeping season, was gorgeous.
Upon arriving at the museum, which is located in a former bank, I was offered a copy of Nader's latest pro-trial lawyer manifesto, "Suing for Justice" and directed toward the exhibits.
At its heart, the museum seems to have two goals. First, give the public a basic understanding of what tort law is and how it has developed over time. Second, convince visitors that the boundaries of tort law should be further expanded.
The museum does a decent job with its first goal. Tort law is an admittedly dry topic, but the museum includes interactive exhibits and creative illustrations of important cases that are at least somewhat entertaining while also conveying the gravity of the topic.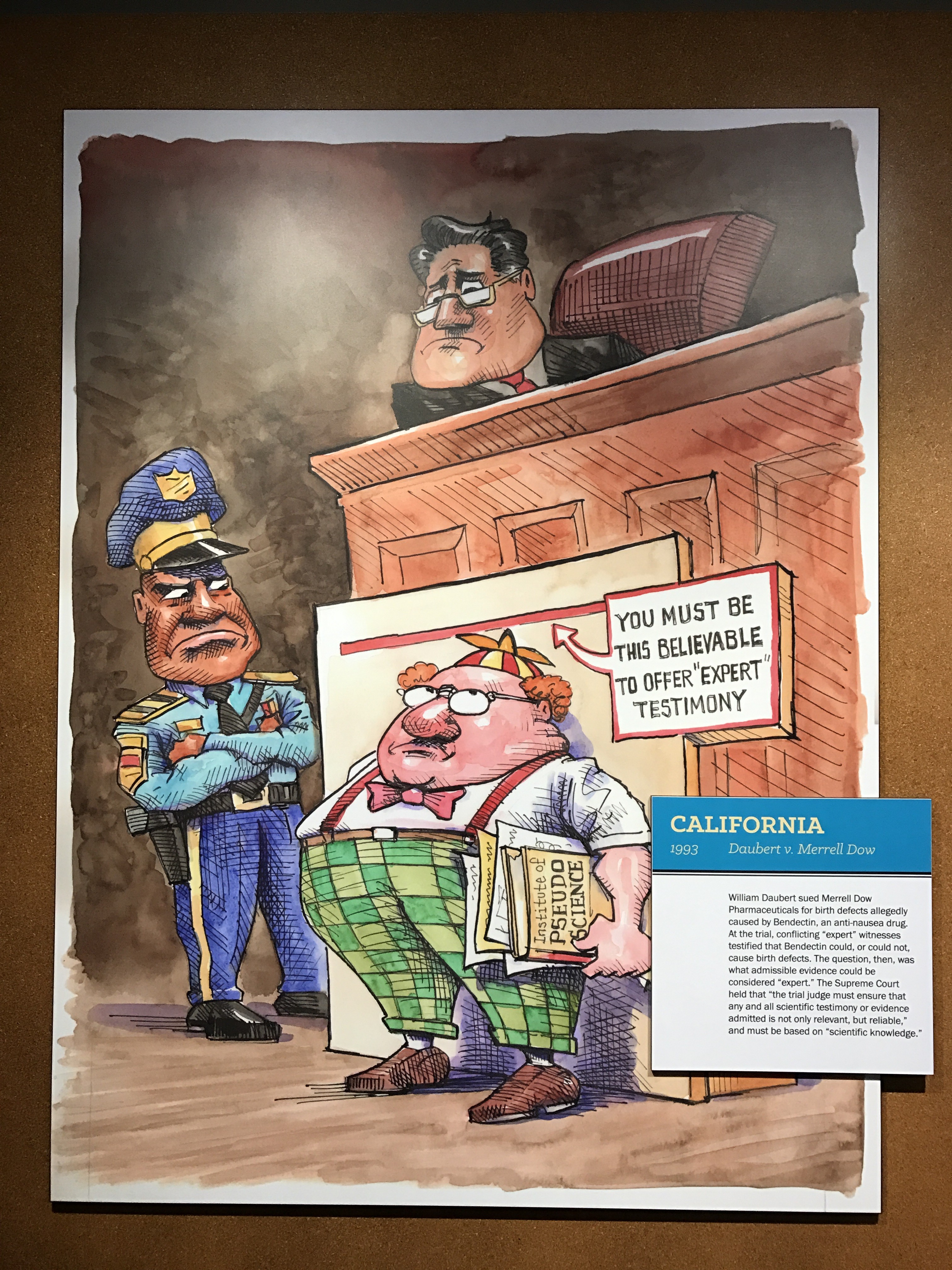 It is on its second goal that the museum comes up short. I was expecting the exhibits to advocate for expanding the law. (It was founded by Ralph Nader after all.) What I was not expecting were exhibits with such a focus on advancing a particular agenda that they miss their mark.
For example, in the middle of the main exhibit room is a Chevy Corvair and an original copy of Nader's book Unsafe at Any Speed. The accompanying exhibit is so focused on telling the story of Nader's invasion of privacy lawsuit against GM that I overheard other museum visitors questioning one another about why the car was even there. They had no concept of the importance of Nader's book and what the car symbolized.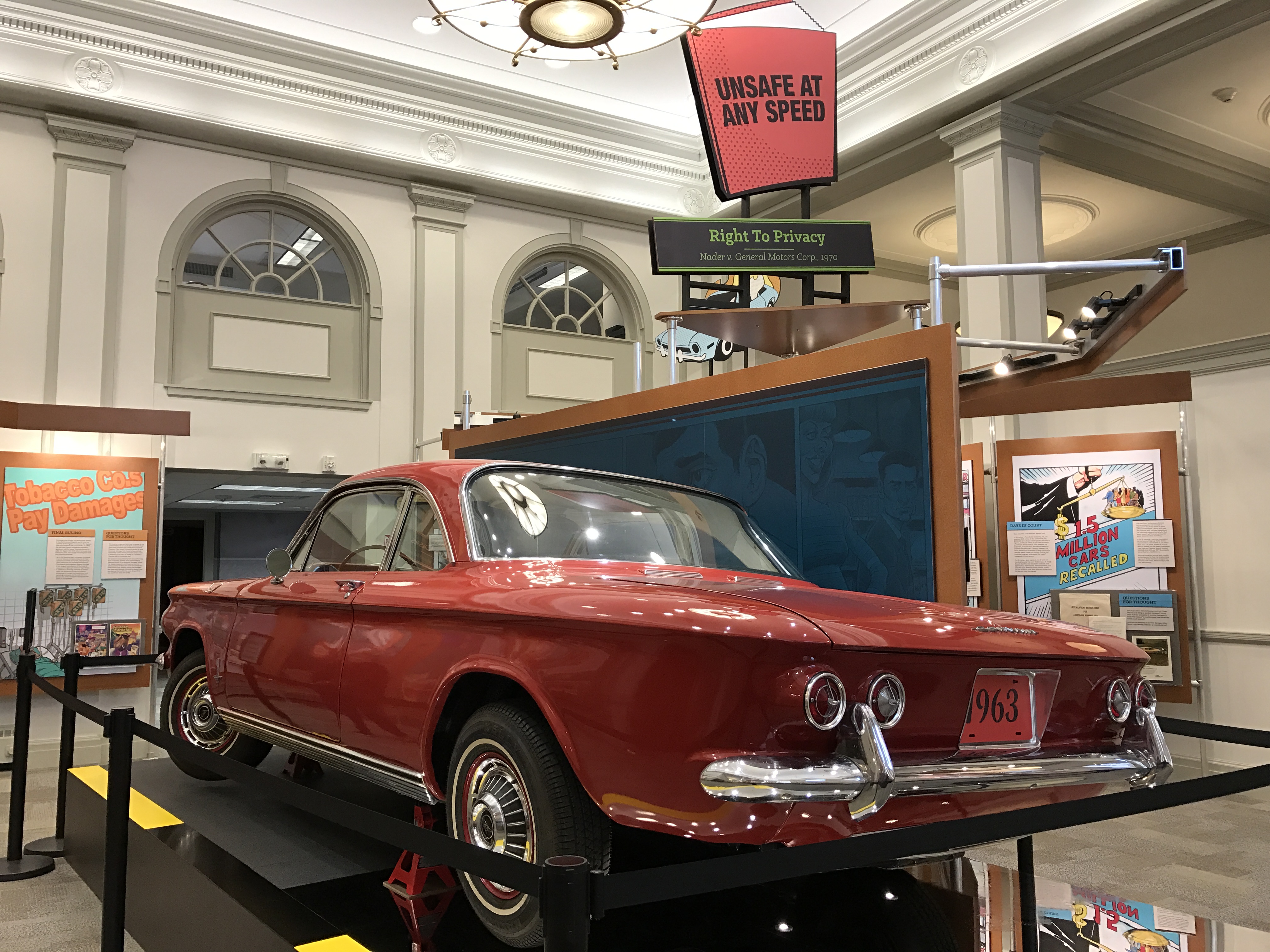 There were also discussion questions on many exhibits that I would love to hear visitors answer. For example, a couple of different exhibits asked visitors to consider whether distilleries should be liable for harms caused by people who drink too much. I'm curious whether visitors scoff at this suggestion or, after having just read through a sympathetic re-telling of the famous McDonald's hot coffee suit, are all for expanding liability.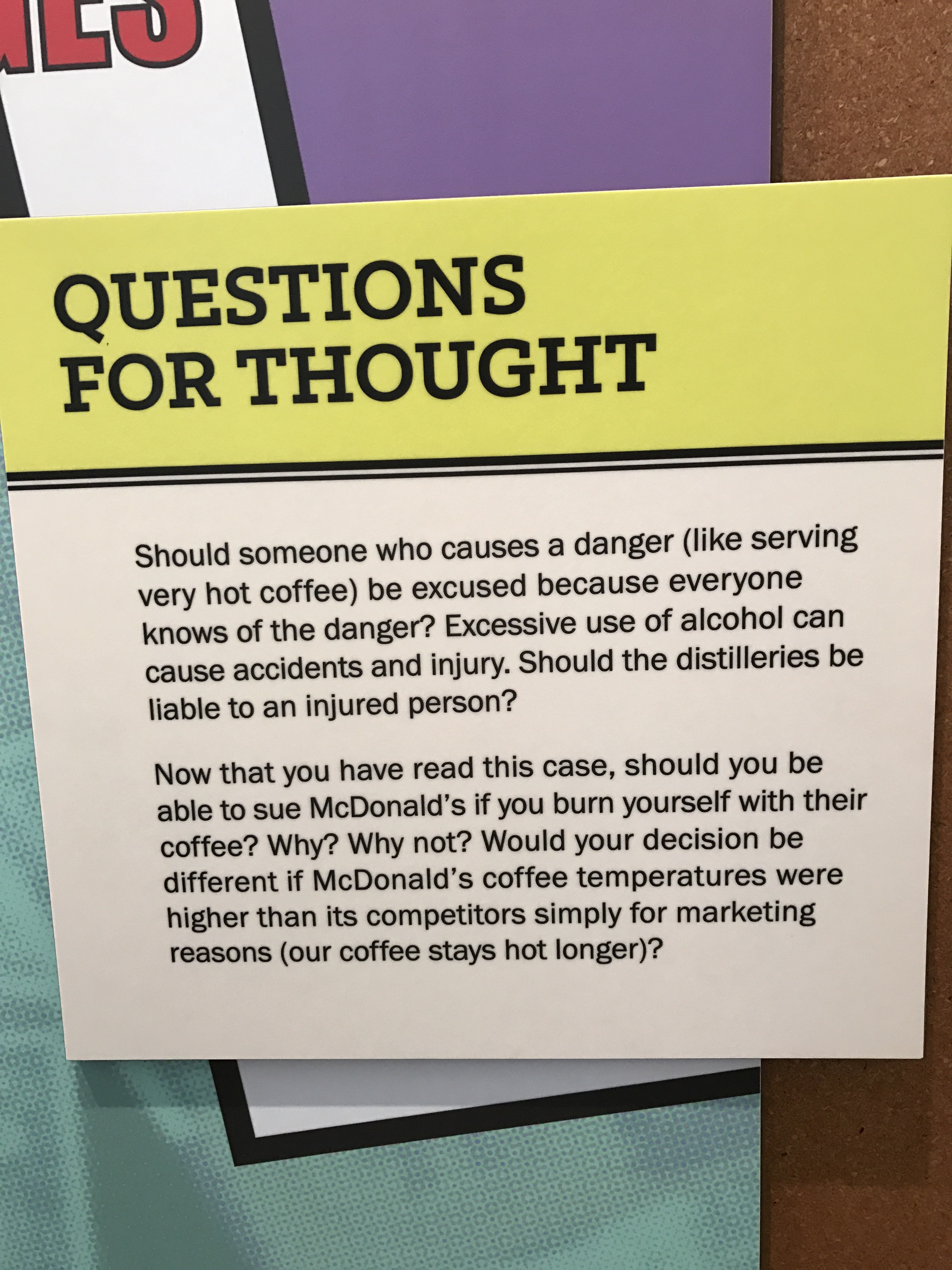 Sprinkled throughout the museum were numerous mentions of the evils of the tort reform movement. Considering that the entire museum focuses on the changing nature of tort law, these tirades sounded bitter and out of place. Do they really expect visitors to believe that all efforts to expand the law are valid, and all efforts to trim excesses are not?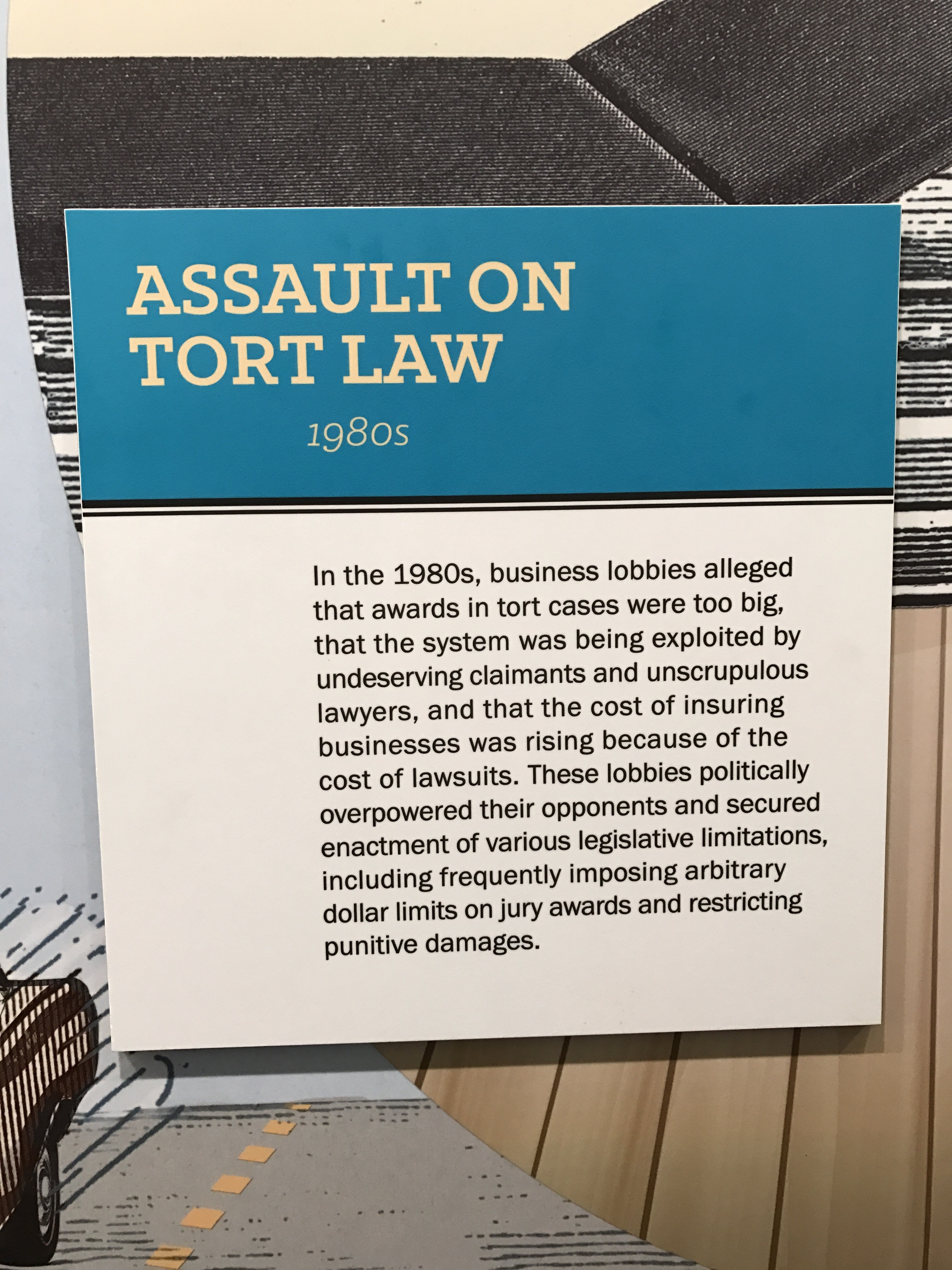 I hope that as the museum grows it will develop exhibits that tell visitors more about all the various viewpoints surrounding the complex history of this area of law.
This post was authored by Emily Kelchen, NJCJI's Director of Public Affairs.