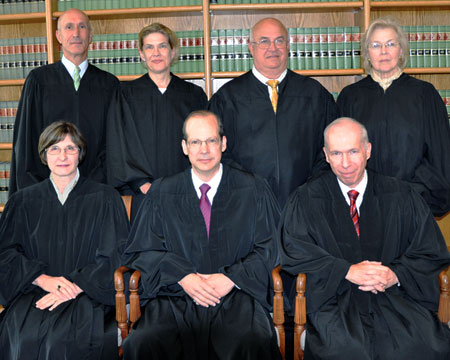 The New Jersey Supreme Court will convene its 2014-15 term on September 8. As the state's highest judicial body, the decisions of the New Jersey Supreme Court have a direct and significant impact on individuals residing in the state and organizations located or doing business here. The New Jersey Civil Justice Institute is closely following the work of the court this term, as we have several cases pending before it.
The Court
The New Jersey Supreme Court is the highest state court in New Jersey. This means that its decisions are binding on all of the lower state courts and on federal courts applying state law. Decisions of the New Jersey Supreme Court can be appealed to the U.S. Supreme Court, but only when there is a federal issue involved, so it is a rare occurrence when the New Jersey Supreme Court's decisions do not become the law of the land.
For the most part, the New Jersey Supreme Court gets to decide which cases it will hear. Litigants unsatisfied with the decision of a lower court may petition the court to hear their case. If the court agrees to hear a case, it is typically because there is uncertainty in the case law or because the issue is too important for the court not to hear it.
The decisions of the New Jersey Supreme Court become binding law. Very rarely are the court's decisions overturned by the U.S. Supreme Court, the legislature, or the court itself at a later date. As such, it is crucial that New Jersey citizens, businesses, and organizations pay close attention to the judiciary.
The Justices
The court is composed of a chief justice and six associate justices, all appointed by the Governor and confirmed by the Senate. Justices serve a seven year term, and may then be re-appointed to a term that ends only when they step down, are impeached, or reach the of 70, which is the judiciary's mandatory age of retirement. The executive and legislative branches have butted heads over the past few years over the composition of the judiciary, but the court begins this term with more certainty in regards to its membership and direction.
On May 21, 2014, the New Jersey legal community awoke to the news that a deal had been struck between Gov. Chris Christie and Sen. President Stephen Sweeney – Chief Justice Stuart Rabner would be nominated for tenure and then-Judge, now Justice, Lee Solomon would be nominated to fill one of the high court's two vacant seats left open since Christie decided not to reappoint Justice John Wallace in 2010 and Justice Helen Hoens in 2013.
With the confirmation of Rabner and Solomon, the composition of the court will stay 3 Democrats, 3 Republicans, and 1 independent. Gov. Christie has indicated that he would like to see a more conservative court, and that appears to be the main cause of delay in filling the remaining open seat since the state Senate, which confirms appointments, is controlled by Democrats.
Rabner's re-appointment provides some sense of certainty about the direction of the court system since he will serve as Chief Justice until 2030, or until he resigns or is impeached, whichever comes soonest. Rabner has set a precedent of thoughtful change during his seven year tenure as Chief that is likely to continue. During this year's state of the judiciary address, Rabner detailed many of the efforts the court has made to become more user friendly, and discussed changes that are currently in process. He specifically highlighted the current efforts to speed civil trials and make the courts more business friendly.
Click the justices' names below to read their official biographies on the New Jersey Court System's website:
The Cases
The New Jersey Civil Justice Institute is the only organization that systematically reviews every case taken up by the state's Appellate Division courts and the New Jersey Supreme Court to determine what impact each case might have on the state's civil justice system.
NJCJI often provides or coordinates amicus curiae briefs in cases that have broader civil justice implications that the parties cannot fully brief. Amicus curiae is a Latin phrase literally translated as "friend of the court." It is the name for a brief filed with the court by someone who is not a party to the case.
To date, NJCJI has assisted with or participated in more than a dozen separate cases at the appellate and supreme court levels. NJCJI currently has three cases pending before the high court.
Wadeer v. New Jersey Manufacturers Insurance Co., Supreme Court Docket No. 072010 (2013).
Kwabena Wadeer was injured when a phantom vehicle swerved into his lane and caused him to lose control of his car and crash into two other vehicles. Wadeer received two arbitration awards against his insurer, the New Jersey Manufacturers Insurance Co. (NJM), one above the policy limit of $100,000 and one below. NJM rejected both awards, preferring to take the case to trial.
A jury awarded Wadeer more than $255,000, but the trial court reduced the award to the policy limit. Wadeer appealed the reduction, claiming NJM acted in bad faith by choosing to go to trial instead of accepting the arbitration awards. The appellate court rejected Wadeer's claim, so Wadeer filed a new lawsuit alleging NJM acted in bad faith. NJM filed a summary judgment motion, which the trial court granted and the appellate court affirmed, holding that plaintiff's bad faith claim was barred by the doctrines of entire controversy and res judicata. Wadeer appealed and the New Jersey Supreme Court agreed to hear the case.
NJCJI argues that post-judgment lawsuits like the one filed by Wadeer are inappropriate under the state's entire controversy doctrine. Whether an insurer acted in bad faith is evident well before the original suit is filed, and must therefore be included in the original action.
In addition, the New Jersey Association for Justice (NJAJ) is urging the court to use this case to upend the "fairly debatable" standard and create a new bad faith standard via judicial fiat. This policy change is unwarranted, and has been soundly rejected by the legislature in recent years. The fairly debatable standard balances an insurer's right to raise policy coverage questions with a claimant's right to pursue a claim where an insurer takes a position in bad faith, without incentivizing excess insurance settlements that drive up premiums. NJCJI urges the court to preserve the existing standard.
The court will hold oral arguments in this case on September 9, 2014. At noon on September 11, David Swerdlow, a partner at Windels Marx, who authored NJCJI's amicus brief and is participating on the organization's behalf before the high court, will be the featured speaker during a post-oral argument policy teleforum on the case. During the call, Swerdlow will provide an overview of the case and its implications before sharing his insights on how oral arguments in the case went. If you are interested in participating in the call, please email ekelchen@civiljusticenj.org for the call-in information.
DeMarco v. Stoddard, et al., Supreme Court Docket No. 073949 (2014).
The issue in the case is whether the rule for third party recovery that applies in the automobile context should be extended to medical malpractice absent statutory foundation, thereby requiring a malpractice insurer to underwrite a claim against a doctor who lied in order to get insurance coverage.
Thomas DeMarco was a patient of the defendant, Dr. Sean Stoddard, a podiatrist. In September 2010, Stoddard performed surgery on DeMarco. The surgery was unsuccessful and the plaintiff's condition worsened, so he sued Stoddard for medical malpractice.
Stoddard sought indemnification from his insurer, the Medical Malpractice Joint Underwriting Association of Rhode Island (JUA). JUA denied the claim after discovering that Stoddard had lied on his application for insurance, which required him to certify that at least 51% of his practice was generated in Rhode Island. In fact, the vast majority of Stoddard's practice was in New Jersey even though he was licensed in both New Jersey and Rhode Island.
DeMarco asked the court to require JUA to compensate him for his injuries despite the fact that the insurance policy it had issued was void due to Stoddard's misrepresentations. The trial court granted DeMarco's request and the appellate court affirmed, holding that medical malpractice insurers should be held to the same standard as auto-insurers in that public policy favors the compensation of innocent third parties.
The New Jersey Supreme Court is now considering the case, and it is that court that NJCJI hopes to persuade with its amicus brief. NJCJI argues that malpractice insurance is significantly different from automobile insurance, and thus New Jersey's unique rules requiring automobile insurers to compensate innocent third parties even when the insurance policy held by the tortfeasor is void should not be extended to cases involving medical malpractice insurance. The statutory foundation the automobile rule is built on is simply inapplicable to any other type of insurance.
Furthermore, making a malpractice insurer liable in the face of an insured's misrepresentations undermines the public's trust in our system of justice, fosters cynicism and suspicion, drives up malpractice insurance costs for New Jersey's doctors, and inhibits economic growth.
 Joel S. Lippman, M.D. v. Ethicon, Inc., Supreme Court Docket No. 073324 (2014).
Can an employee performing activities as part of his or her core job functions, on that basis alone and without further conduct by the employee, seek whistleblower protection under the Conscientious Employee Protection Act (CEPA) if they are fired? This is the question the New Jersey Supreme Court is going to answer when it decides the case Lippman v. Ethicon, Inc.
Dr. Joel S. Lippman, M.D. was employed by Ortho-McNeil Pharmaceuticals, Inc (OMP) and Ethicon, Inc., both subsidiaries of Johnson & Johnson, from 1990-2000 and 2000-2006 respectively. At Ethicon, Lippman served as the company's World-Wide Vice-President of Medical Affairs and Chief Medical Officer. His job involved reviewing possible adverse effects of products that had been brought to Ethicon's attention by others, and serving on the company's Quality Board, which was responsible for reviewing and making decisions regarding product safety and efficacy.
In 2006 Ethicon fired Lippman. Ethicon asserts Lippman was terminated after it was discovered he had an inappropriate relationship with a coworker who later sued for harassment. Lippman claims Ethicon used the relationship as a pretext to fire him for whistle-blowing, and is seeking protection under CEPA.
The trial court granted Ethicon's motion for summary judgment, finding that it was Lippman's job to bring forward concerns, so his actions did not count as whistleblowing protected by CEPA. The appellate court reversed and remanded, holding that CEPA does protect employees who are hired to be in-house whistleblowers.
The New Jersey Supreme Court has now taken up the case, and the New Jersey Civil Justice Institute and the New Jersey Business and Industry Association have filed a motion to participate as amicus curiae. NJCJI and NJBIA urge the high court to reverse the appellate court's ruling and reaffirm that CEPA does not protect people who are hired to be in-house whistleblowers.
Keeping the distinction between actual whistleblowing covered by CEPA and activities that are part of an employee's job is important for several reasons. First and foremost, framing internal, debate-based decision-making as whistleblowing that is actionable under CEPA will discourage companies from using that system, which is recognized as very effective, as a method of compliance control and risk management. This would likely skew decisions made about products in the future and stifle innovation, leading to decreased economic development and job creation in our state. Furthermore, it would become difficult to manage employees with compliance-related jobs because they could file a CEPA claim any time their employer makes a decision negatively impacting their employment.
Whistle-blowing under CEPA has long been understood to mean something different than doing your job if you are tasked with being an in-house watchdog. The court must maintain this distinction in deference to precedent and the legislature's responsibility for policy-making.
Additional Resources
Oral Argument Schedule for the 2014-15 Term
Website for viewing the live webcast of oral arguments
The New Jersey Supreme Court's Appeals Tracking Website
The New Jersey Digital Legal Library